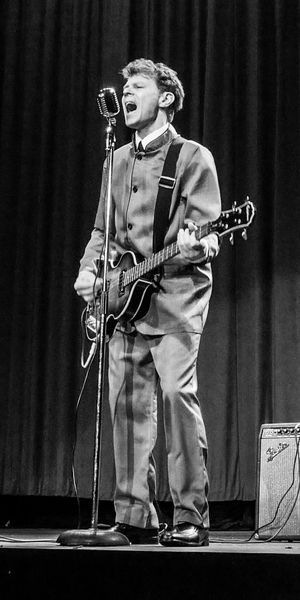 Rich Chambers
From humble and modest beginnings to redefining 60s and classic rock, Rich Chambers' musical story is not unlike that of countless other musicians, or anyone in any career for that matter. Discovering a passion for the guitar at age 10, and an even greater passion for songwriting at 14, he embarked on a life-long commitment to music and songwriting. Like any successful individual, he is all about commitment, dedication, hard work, maintaining perspective, and believing in himself. 
Chambers' journey has not been without its bumps though. After completing high school, he was so sure he would be the next big thing, until countless nights playing in many cheesy dives, for at best a round or two of cheap draught beer, taught him otherwise. It was then he made an important, life-changing decision—he went back to school, which eventually led to a bachelor's degree in English and later a master's degree in Humanities. As Chambers so enthusiastically always says, "education rocks!" 
Along the way, Chambers' rock n' roll journey always kept moving. As a solo artist, and previously with his band Half-Hour Late, he released numerous albums and singles. His most successful song to date, has been his cover of "Snow Miser vs. Heat Miser" from his first album, 'Santa's Rockin' Band,' which was released soon after his first university graduation in the days before Spotify and on-line music sales and streaming. Once iTunes hit, and later Spotify, "Snow Miser vs. Heat Miser" began to really resonate with people and rise in popularity. It has since been downloaded over 18,000 times in the last ten years and streamed approximately 1.2 million times in the past three. The song became the cornerstone of his 2020 'Santa's Rockin' Band' album reboot, which also included a newly penned original, "It's Christmas Time (All Over the World)," which went on to attain over 250,000 streams on Spotify alone in the last two months of 2020. 
Following on the heels of his successful 2020 Christmas album, Chambers has been consistently and methodically releasing new original music throughout 2021 and into 2022. His socially conscious rocker, "I'm So Tired," came out in January, accompanied by a hard-hitting video brimming with thought provoking social commentary (the video continues to receive accolades from film festivals around the globe). This was followed in the spring with his mid-tempo, love gone wrong, "Sorry Isn't Good Enough." His summertime release was "Summer Looks So Good On You," a Beach Boys meets Katrina and the Waves fun and sing-alongable offering, which was followed by his fall release, "High School Can't Last Forever," a rocker that merges the sounds of Buddy Holly and Green Day to explore the notion of what really constitutes youth and innocence, and he completed the year with his release, "I Wonder," an infectious, almost bubble gum pop/rock song that Chambers likes to simply call a "musical guilty pleasure." 2022 saw the release of  cover of the Beatles' "I Saw Her Standing There, " which was followed up with  "You're a Nice Guy But…," a song that has fun with every cheesy break-up line delivered to us by a boyfriend or girlfriend trying to let us down easy. aka dump us!  To start off 2023, Chambers released his guitar-driven and energetic "I'm a Fool for Lovin' You." He followed that up in May with his first full non-Christmas album, I FOUND THE VOLUME, which contains his nine previous singles and three new rock n' roll tracks.
With bombastic guitars and a vocal style that oozes rock n' roll. Rich Chambers is giving us something that rock n' roll has not seen in quite some time—energy and fun. It's Rock n' Roll Reimagined.